Clinically Focused Multidimensional Therapy briefly IKOMTIt is a neuromusculoskeletal treatment concept that aims to eliminate these causes by observing the pain scientifically, while at the same time considering the factors that cause pain from a psychological, biological and sociological point of view.
The IKOMT concept evaluates clients who come with pain complaints holistically and creates a treatment model in the light of scientific evidence. With this aspect, it differs from classical physical therapy methods and represents functional anatomy and pain physiology with its unique philosophy and perspective.
What is the basis of the IKOMT Concept?
The basis of the IKOMT concept is neuromusculoskeletal applications, movement science, pain science and behaviors originating from the interaction between body and spirit. In the IKOMT concept, while the examinations and examinations are carried out on the clients who come with the complaint of pain, the factors that cause the pain are focused on. These factors are examined in four main categories;
Life style

Physical

Emotional

Mental
According to the IKOMT concept, pain; It is the result of a combination of physical, psychological and social conditions and should be handled holistically with detailed examinations and evaluations before treatment.
As a result of the therapy carried out with the IKOMT concept, people meet a successful recovery process from biological and medical aspects, while at the same time they achieve psychological well-being. The multidimensional therapy method also helps people to improve their lifestyles in a positive way while teaching them to raise awareness in body and mind coordination. In addition, according to the salotogenesis model used in the concept, it aims to strengthen health by focusing on the factors that create health, not the disease.
Who is the Founder of IKOMT Concept?
The concept of IKOMT was founded by Ezdeşir Kemali, an expert physiotherapist who was born in Germany and gained experience by completing his education in the field of physiotherapy and continuing his education in the fields of manual therapy, osteopathy, movement science, pain science, communication, psychomatics and psychology.
By establishing IKOMT training institutes in 2008, Ezdeşir Kemali succeeded in transferring his thinking model to many other physiotherapists and created a great awareness on pain management and treatment with manual therapy.
What is Motion Science?
Movement science is a branch of science that studies the effects of nerves on muscles and bones by examining the natural behaviors of the human body such as sitting, standing, standing, running and walking in daily routine.
The basis of movement science is to increase the range of motion of people efficiently and focuses on muscles, ligaments and tissues, as well as examines which muscle group should do which exercise, within which limit and angle.
What is Pain Science?
Pain science is the science that studies how pain affects the body and what effect it has on the stimuli to the brain. Pain is an important health problem that is studied and treated by healthcare professionals with expertise in many different fields. As many can guess, the main reason people go to a physical therapist is pain.
What is Neuromusculoskeletal Therapy?
Neuromusculoskeletal therapy has a deep understanding of the treatment of pain and proceeds with a multifaceted approach, focusing on the relationships between nerve, muscle, bone, skull and spine throughout the treatment.
Neuromusculoskeletal medicine specialists are people who have the competence to diagnose and treat by examining the interaction of nerves, bones and muscles.
In neuromusculoskeletal therapy, manual pressure is applied to certain points to relieve pain. In this way, while helping to readjust the nerve impulses coming to the brain, it is also aimed to reduce the number of pain impulses received by the brain.
Ensuring healthy blood flow is the most important part of the healing process. In this way, the amount of oxygen in the body increases and the regeneration time of tissues and cells increases. Healthy blood flow also helps to transport healing nutrients such as vitamins and antioxidants to sore areas while preventing inflation in the body.
How Does the IKOMT Concept Work?
In the IKOMT concept, a detailed examination and evaluation process is carried out on clients who come with complaints of pain before a therapy program is created. In this evaluation process, individuals are evaluated holistically and answers to the following questions are generally sought;
What are the causes of pain?

Does the pain occur on nerves, joints, muscles or tendons?

How did the pain start?

What type of pain is it? (For example, a sharp pain stabbing like a knife, mild pain at first, then intensifying pain, pain seen with numbness, etc.)

If the pain was not caused by an injury, how did it occur?

How does pain affect your life? (For example, not being able to focus at work, not being able to perform basic daily activities well enough, feeling angry and unhappy, etc.)

How is your home and work life? How do you strike a balance between the two?

Do you feel under intense pressure at work or at home?

Do you feel relaxed when you come home?

Do you have any strategies for managing and controlling pain?
In the light of the answers received according to the questions asked above, the factors that may cause pain are investigated in terms of physical, sociological and psychological aspects. Because in the IKOMT concept, each cell, tissue and organ has a unique behavior and therefore each individual's attitude and behavior towards events and situations differ from each other.
According to the IKOMT concept, the factors that cause pain can vary according to the environment, family order and daily routines of the people. For example; It can be said that a person who comes with a complaint of neck pain has neck pain because of working at the desk for a long time in the first place, due to bad posture or working at the computer in the wrong position. However, when pain is approached from a holistic perspective, feeling under psychological pressure at the workplace can also cause neck pain.
Pain Management with IKOMT
Pain can sometimes be caused by an injury, but often it is necessary to look at the causes of pain from other angles. The IKOMT approach is advancing with the aim of raising awareness about the management of pain and mental and physical well-being.
Before the treatment model is created from the IKOMT concept, a map of all the factors causing pain is mapped, and the answers to the following questions are sought in order to raise awareness in people after the treatment;
What are your expectations from the treatment?

What are your short and long term goals? (For example, a person with limited mobility may set goals such as walking without pain in the short term, sleeping without pain. He may set these goals as playing tennis, starting a bike ride, or going on a long trip in the long term.)

How much time can you devote to treatment?

What can you do for yourself during the treatment process?
In the light of the above questions, emotional blockages created by people in their own lives are determined, and these blockages are evaluated as social, emotional and mental factors that cause pain, and a treatment program is prepared in the light of these basic factors.
What is the Purpose of the IKOMT Concept?
The aim of the IKOMT Concept is to reduce pain and increase body endurance. After the IKOMT process, people can achieve a pain-free life, while at the same time, they can become physically more flexible and mentally stronger individuals, and can become happy individuals with high awareness by adapting the information they have gained during the treatment process to their daily life.
Who Is IKOMT Applied For?
IKOMT has been used successfully to treat many different types of chronic pain problems. These pains are
- Back pain
- Neck pain
- Headache
- Joint pain
– Nerve Pain (For example, Sciatica)
Arthritis
– Muscle Pain
– Tendon Pain
including types of pain.
Chronic pain can be unbearable and uncomfortable after a certain period of time. This feeling resulting from pain can negatively affect the physical and emotional well-being of the human body over time, leading to unexplained or uncontrollable anxiety, anxiety or muscle tension, causing more serious problems.
Pain can negatively affect sleep quality, regular physical activities such as running, cycling, walking, the balance created in business and private life, daily life activities, social life and family life. In order to prevent such negative conditions, the IKOMT concept has been successfully applied to the following people;
– People who experience pain due to discs on the spine,
– People who experience pain related to the muscular system,
People who experience pain related to the nervous system,
– People experiencing joint pain,
– People who experience pain due to mental (mental) reasons,
– People who experience pain due to emotional reasons,
– People with persistent pain,
– Persons with functional limitation of movement,
– People who feel limited in life due to pain,
– People who are exposed to intense stress,
– People who see their own behavior as a burden and think that they are restrictive and want to change these behaviors,
– People who want to discover or develop their own potential.
How Can IKOMT Help You Mentally?
Recognizing and defining pain in the IKOMT model is of great importance in pain management. After determining the factors that cause pain, a number of studies are carried out between the physiotherapist and the client to define and control the pain. At the core of these studies is the evaluation of the following objectives;
Trying new ways of regulating emotions so that less stress is placed on the nervous system.

Learning how to use thoughts more effectively to solve problems, enjoy positive experiences, and be less obsessed with worry and reflection.
For example; learning how to develop a regular technique to calm the body and mind through breathing exercises.
Helping to identify what is important in living a more positive and good life.

Setting personality-appropriate, accurately characterized goals on current assessments.

Having a supportive social environment, working on bilateral relations and ways of communicating effectively in the social environment.

To learn how to perform exercises that are a supportive part of the treatment.

Trying to develop habits that help calm and nourish the nervous system, such as sleeping regularly, exercising regularly, eating regularly.
What are the IKOMT Treatment Stages?
In the IKOMT Concept, in the light of the above-mentioned evaluations and studies, a treatment program is offered to the clients exactly what they need. This program aims to explain to clients in simple language what is going on with their body, and at the same time to bring clients into a state of well-being.
MANUAL THERAPY
Manual therapy works on the physiological causes of pain and helps to eliminate these causes. The manual therapy method, also known as the HANDS-ON treatment method because it is applied manually, is a part of treating pain caused especially by muscle spasm, muscle tension or limitation of movement.
Manual therapy can relieve or completely relieve your pain and restore your functional capacity as quickly as possible.
EXERCISE
In order for the benefit of manual therapy to be permanent, following and applying some exercise programs is another step in maintaining well-being. It is important to relax the body before exercise, as there is a high correlation with pain, stress, and tension. Physiotherapists will primarily teach clients how to relax the body.
Exercise is like medicine for pain relief. Getting the right dose for the right person is very important. For this reason, doing the exercises given by the physiotherapist on time and regularly not only strengthens your muscles by increasing your joint mobility, but also helps you to say goodbye to your pain permanently.
BREAKING HABITS
Some behaviors that are done unconsciously can also be considered among the factors that cause pain. These behaviors are generally;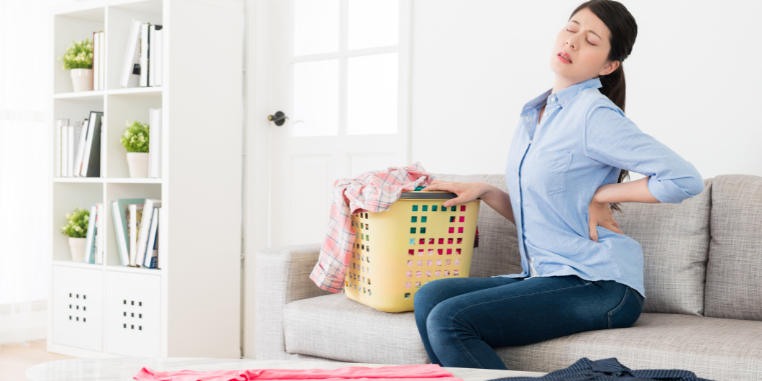 - Holding breath
– Rapid or shallow breathing
– Tension
– Working at the computer with the wrong posture
– Lifting heavy items
- making sudden movements
can be listed as. Avoiding these movements and breaking these habits plays an important role in controlling pain by reducing tension and stress in the back.