IKOMT aims to eliminate pain and limitation of movement by evaluating individuals as a whole in psychological, sociological and physiological terms.
What is IKOMT – Clinically Focused Multidimensional Therapy?
IKOMT is a specialist physiotherapist who has been working on pain and the causes of pain for more than 30 years and conducting various clinical researches. Ezdeşir Kemali It is a clinically focused multidimensional therapy model, the foundations of which were laid by
In IKOMT therapies, pain and the causes that cause pain are examined as a whole in terms of social, physical, emotional and mental aspects, and by aiming to reduce pain, individuals are provided to be more flexible and resilient, mentally stronger and more conscious.
What is the Purpose of the IKOMT Therapy Model?
IKOMT In the therapy model, emotions are focused on in order to get to the root of the pain and investigate its causes. For example, the feeling of happiness is generally known for its healing effect, and the state of being sad is said to cause physical or emotional diseases. Exactly when IKOMT investigates the causes of the disease, it also focuses on emotions. However, unlike in general, the focus in the IKOMT model is not the diseases but the patient, in other words, the client is important in IKOMT.
The IKOMT model separates emotions according to the burden and load capacity of individuals and evaluates each individual separately. For some people, being sad can cause a headache, while for others it can cause sciatic pain. For this reason, correct analysis and measurement is based on the IKOMT therapy model in order to draw a correct roadmap in therapy.
The aim of the IKOMT model is to help clients get rid of their limited mobility and reach a pain-free and quality life by targeting the pain caused by biological or mental, that is, emotional loads in the nervous, musculoskeletal, and skeletal systems. Before starting the therapy, the patients' history of illness and the difficulties and emotional states they encounter in daily life are listened to, and a roadmap for therapy is drawn up by evaluating the client as a whole.
How is the IKOMT Therapy Model Used in Back Hernia Pain and Symptoms?
The IKOMT therapy model helps to increase the capacity of the tissue, joint or spine while helping to stabilize it. In lumbar hernia pain and lumbar hernia symptoms, first the symptoms are evaluated holistically. While examining the client for an entire day, a preliminary assessment examination is carried out by looking at his gait, sitting and posture at the same time.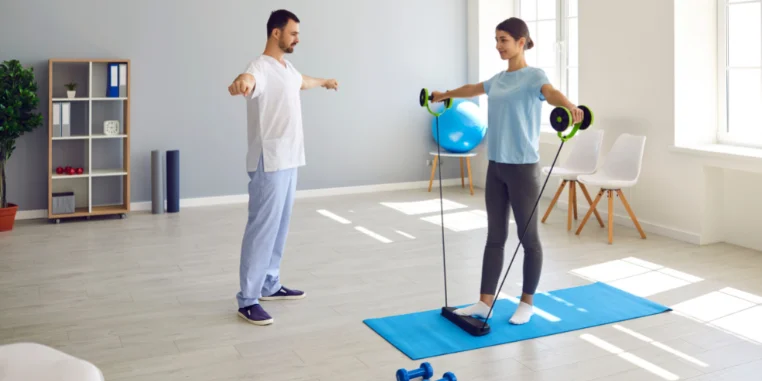 In the pre-assessment examination, the following questions are directed to the client;
Does he have difficulty finishing his work during the day?

Is he having stressful times at work?

Does he work at the desk?

If he works at a desk, which sitting positions does he use frequently?

Any recent family or financial difficulties?

Does it stand upright while walking? Does he pay attention to his posture?

Does he exercise regularly?

Is it about sports?

How is the sleep pattern?

Does he follow a certain nutrition program?
In the light of these questions, the situations and conditions faced by the client, both psychologically and physically, are examined. This review is called the "Load and Capacity Model". In the load and capacity model, it is accepted that each organ has its own characteristics and that each individual has his own individuality.
For example; The lumbar spine is considered to be individual when evaluating a client who has low back pain caused by herniated disc and has difficulty walking. When people lift heavy loads, it can cause a herniated disc due to excessive load on the lumbar spine, as well as causing a herniated disc by putting pressure on the spine with the heavy workload and excessive pressure they encounter at the workplace.
Likewise, focusing only on the ankle of a person with an ankle injury is not considered sufficient according to the IKOMT therapy model. According to the IKOMT therapy model, people are psychological and social beings as well as physiological. The person with the ankle injury may be working at the bank or may like to run. These parameters should also be taken into account when evaluating the IKOMT therapy model.
Who is the IKOMT Therapy Model Applied to?
The IKOMT Therapy model makes appropriate plans to reduce symptoms caused by muscle and nervous system related disorders such as low back pain, neck pain, knee pain, headache, and to strengthen muscles, tissues and spine. IKOMT therapy works to make people more pain-free, more flexible, and mentally stronger individuals. At the same time, it helps them gain new awareness by motivating them psychologically.
The IKOMPT Therapy Model is successfully applied by expert physiotherapists for the relief of the following symptoms;
Pain due to spinal connective tissue discs

Muscle pains

Nerve-related pain such as sciatica

Joint pain such as arthritis

Mental pains

Emotional pain such as fibromyalgia

Persistent or persistent muscle aches

Functional limitations, such as difficulty raising the arm or taking a step, or back pain when sitting
While the IKOMPT therapy model focuses on physical pain;
IKOMT therapy can help heal pain and symptoms that cause pain, as well as help people who participate in therapy to improve their awareness in a positive way by increasing their awareness of the environment, events and people.
Who and Where Is IKOMT Therapy Applied?
IKOMT Therapy is successfully applied in many IKOMT health centers that serve with the special IKOMT training of talented physiotherapists selected by its founder, Ezdeşir Kemali. Specialist physiotherapists Kaan Akın and Mehmet Şen carry out successful programs in many fields with the principles of IKOMT therapy, which Ezdeşir Kemali laid the foundations for in wellness centers.
Persons applying to IKOMT health centers are first subjected to a holistic assessment, their needs are determined according to their complaints, and a personalized roadmap is created by expert physiotherapists who have received IKOMT training. Regularly followed programs and evaluations aim to reduce symptoms and create a state of improvement.
What is the Difference Between IKOMT Therapy and Classical Physical Therapy Technique?
Although all of the techniques and methods applied in the IKOMPT therapy method are based on medicine, it takes many of its principles such as anatomy, physiology, neuroscience and exercise from the foundations of classical physical therapy and evaluates a holistic perspective by processing it. The IKOMT therapy model is formed as a result of an evaluation made in the light of all the factors that make up the individual. In the IKOMT therapy model, it focuses on the main source of the problem as well as the problem, and the success rate in the IKOMT therapy model is statistically high.